MN Bass Openner 2005! May 28,2005
And it's Cyberfish on top so far.
Morning went somewhat according to
the plan
.
I did get out slightly later than I wanted and I spent too much time with little fish at the GOMH. I only got a couple decent bass at the GOMH with the biggest being 15+". Caught numerous little ones from 6-13" all on Senko's or 10 Husky Jerks. I enjoyed watching a bass boat parade at the GOMH overpass. The Range Bassmaster have a club tourney here next weekend.
By the time I got to the PRO it had been worked over by at least 2 boats both bass fishing. I got a 16" on a BSF right away, but it was tough. I did manage another 16er and missed one that was in the 17inch range. The fish were skittish and barely taking a pink 10HJ. I headed in at 10 to pick up up Cyb, but he hadn't arrived.
I then went to fish the East Dock row in our bay. Got a strike from a sickly looking Pike and that was it. Didn't do the full row and I went in for lunch and Mike still wasn't there.
Here's a pic of my morning fish.

Cyb showed up about Noon on Sat. as I was preparing to take a nap and watching FLW outdoors. We headed out and went to the Back Bay and there were no crappies or bass. We then headed to the GOMH and nothing in the immediate area. We headed up the East side to the intersection...

...where Cyb got a 17.5" and 18.5", both of which boiled on my bait first with me getting a couple of little ones. I was getting hungry and tired and so we headed in.
We decided to nix the plan about going to Bordon or ML even though it was calm the water was cold and we decided the action wouldn't be very good. I took a nap and Cyb went gill fishing but managed to land lots of little bass and what he described as an absolute football of a 16.5.".
Cyb got me up around 6PM and we were on the north end of Platte by 7. Mike was catching Pike and gills on a Mini-Mite while I got pike on a BSF and Popper. I had one super vicious hit from either a Big Dog or Pike on the Popper but it missed the bait. We ended up having Pike for dinner and sunfish and 1 bass going to the widow Olson.
Bass Opener Day 1 Brings a Cyberfish Victory
Sunday May 29, 2005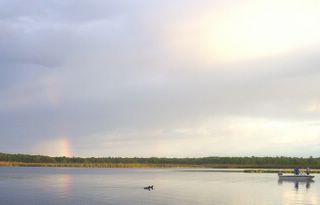 The BP was one tired dude. To tired too get up and fish at 5AM, too tired to get up for church with Cyb and BP's Dad, too tired to get up and fish @ 11AM, Noon, 1PM, 2PM, or 3PM. Cyb went for a walk, played guitar, and mellowed out during this time. Finally I did get up, but we didn't head right out but ate sandwiches then went to the Pole Barn for a visit.
We didn't get out until after 5PM when it was threatening rain and had gotten very windy. Cyb was picking some nice gills and small bass off the dock.

Yes, I meant SMALL Bass. (He actually got a smaller one when we went out in the boat)
We eventually headed to the other side of the bay to check docks for bass and Crappies. We got pike and gills and perch instead. Mike got 1 mini Crappie. We then went to the Back Bay where the pic with the Rainbow, Loons, and Boat was taken. As it turned out the rain pretty much missed us and it calmed down quite a bit. Not a bad night. In the back bay we got mainly Pike and Gills. Maybe Cyb got a Crappie. Where are the bass?
As it got dark we headed to the GOMH for Crappies, and Cyb landed a few small ones, I got a bullhead (for real) on jig and power twister.
Day 2 was a Draw
(no credible bass for either)